Thoughtful planning
= successful campaign…
Surprises can be stressful, communication campaigns are an investment but discussing and planning for your expectations can ensure peace of mind in your efforts.
Successfully communicating your message with consistent branding of various print and or digital elements requires a plan. Whether it is a one time, annual or occasional event to raise funds, promote an event, run for political office or celebrate an organizational milestone, planning ahead can ensure all of the graphics you need are in the proper format, ready for release on social media or mailings and less stress.
Capital Campaigns
Capital campaigns are critical to the success of many organizations. These efforts may include elements such as brochures, posters, standing banners, graphic Inserts, postcards, articles, labels, and Social Media graphics many in multiple languages and more.
Event Campaigns
Events have a specific and short lifespan.  These campaigns need lead time to get the word out before the event and may include programs, ads, brochures, posters, standing banners, postcards, articles, media back drops, and social media graphics and may require multiple languages to reach your audience.
Political Campaigns
These campaigns have various deadlines for fundraising and elections often needing a logo, website, yard sign and larger signs, postcards and social media graphics with consistent branding to get out the vote!
Organization Milestones
Organizations also have smaller campaign needs, such as anniversaries, launching a new website or addition to your company.
One of the more interesting projects I completed, was a 12-piece project for the 15th anniversary of Cronin Construction.  Over the course of their 15th year, each month they shared pictures and stories of their projects, experiences and growth with their clients. The project also served as a thank you to their clients as well as their employees.
Let's talk about your Communication Campaigns
Large projects can be daunting and full of stress. But a well planned process and establishing expectations can help reduce your stress and increase the impact of your efforts.
Click here for more information on company and organization branding.
 Use the contact form below to schedule a free 15 minute consultation and get started.
2018 Our Catholic Appeal
Diocese of Orlando, Capital campaign
2017 Our Catholic Appeal
Diocese of Orlando, Capital campaign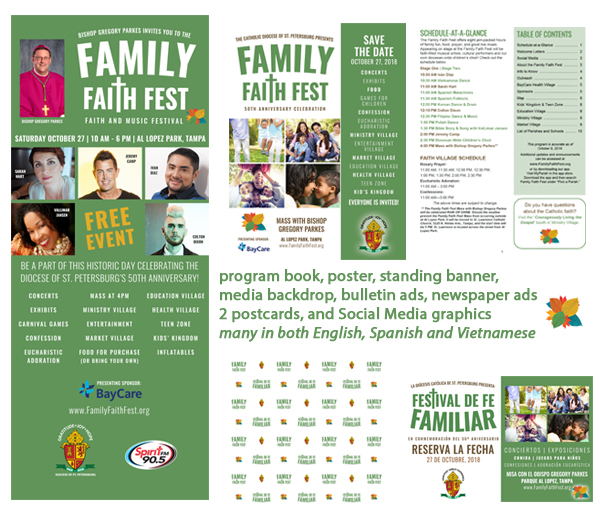 2018 Family Faith Fest
Diocese of St. Petersburg, Event Campaign
12 Month Anniversary Campaign
Organizational Milestones
Take the next step…
Call or complete the form below to schedule a consultation about your project. I will provide a free 15 minute consultation to discuss your project needs and proposal.